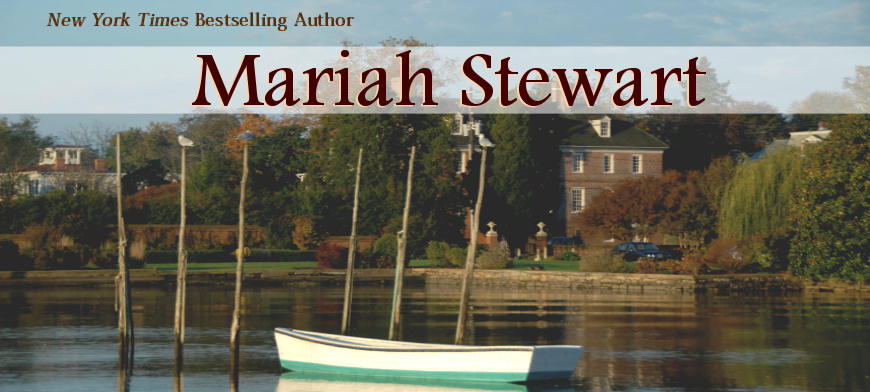 Join New York Times Bestselling Author Mariah Stewart as she revisits her contemporary romance roots and invites you to discover St. Dennis on Maryland's Eastern Shore, in



COMING HOME
On sale March 23


So if you read my last note, you know that I'm changing things up a bit, and you know what led me in this direction. If you don't know, read the previous entry here.

I'm really excited about my new series, which we've named The Chesapeake Diaries because the books are all set on — duh — the Chesapeake Bay, and because throughout each book, there will be diary entries written by Grace Sinclair, a seventy-something year old life-long resident of St. Dennis, my fictional town on Maryland's Eastern Shore. Gracie owns the St. Dennis Gazette, the local newspaper, and knows everyone in town. She's a shrewd observer of the town and the people she loves, and as the entries progress, you'll learn a surprising thing or two about her as well as some of the other residents of St. Dennis.

COMING HOME is a story about two people with unhappy pasts who find love when they least expect it, and discover that there is life after sadness, life after grief, and that your past doesn't have to define your future.

Former FBI agent Grady Shields had retreated to the home in the Montana mountains that he'd shared with his wife before she was murdered in my DEAD books. He's content with the life he's made for himself as a wilderness guide, taking individuals or groups into the Rockies for hiking, camping, and riding the whitewater rapids. When his sister, Mia, asks him to walk her down the aisle at her wedding to St. Dennis chief of police Gabriel Beck, he's happy to say yes. The last thing he's looking for is romance, but he can't seem to keep his eyes off Beck's sister, bridesmaid Vanessa Keaton.

Just as Grady has tragedy in his past, Vanessa has...well, Vanessa has quite a past. But with the help of Beck and his father, Hal Garrity, she's settled in St. Dennis and has made a stable life for herself. She's happy for the first time in as long as she can remember. She owns her own business — a successful, upscale women's boutique she named Bling — and has a home she loves. She's made a place for herself in St. Dennis, and if she's missing something in her life, she's okay with that. She doesn't believe in true love or happily ever after, because she's pretty sure there's no such thing.

Watching these two unsuspecting people fall in love was a lot of fun, believe me —

Click here to read Chapter One of COMING HOME.

Click here to read Chapter Two.

Because Mia and Beck's wedding is the catalyst that brings Grady and Vanessa together, the video trailer for the book has a wedding theme — and there's something extra-special in the video. The bride and groom kissing in the shower of rose petals? My daughter Kate and our darling son-in-law, Michael, at their oh-so-beautiful wedding at the oh-so-romantic Congress Hall in Cape May, NJ. Take a look:




And what's a wedding without favors? Here's a link to the recipe for the Iced Lemon Cookies that Mia and Vanessa made for the wedding guests to take home (it's actually my daughter's recipe, which we almost made as favors for her wedding but ran out of time!). Click here

So there you go — you're up to date! I hope you love this first book in my new series as much as I loved writing it. The second book, HOME AGAIN, goes on sale September 28 — more on that one later!

Love ~



PS: Please make sure that when you email me, you type in your correct email address. I've had a lot of emails returned for bad addresses, so please be really careful if you want a reply!